Martin Chuck
Inventor Tour Striker Training Products/Founder Tour Striker Golf Academies

To Schedule Lessons Or Make Reservations For The Tour Striker Golf Academy With Martin Chuck
Click HERE
Quickly becoming one of the World's most prominent coaches, Martin Chuck developed his love and talent for the game of golf north of the border in Ontario, Canada. Like most kids from Canada slapping hockey pucks was his first sporting love. It wasn't long before the allure of golf took hold. Like any true outlier in his given profession, Martin found himself in the shadow of two of the World's best ball strikers and Canadian Legends, Moe Norman and George Knudson. "The time spent around George and Moe was something I can't really measure and didn't realize how truly special of an opportunity it was," says Chuck. "I was able to watch, witness and in the case of Mr. Knudson, work for one of the best of alltime."

The lessons learned by Chuck in his junior years served him well as he attained a scholarship at New Mexico State University where he was a 4-year letterman. After his college career Martin Chuck played professionally on the Canadian and Nationwide Tours among many other satellite tours around the United States. He left the tour and focused his attention on club management and coaching golfers. During a simple lesson with a new golfer in 2006, the idea for the Tour Striker Training Club was born. Since December 2008 sales of Tour Striker have surpassed 100,000 units worldwide and has been recognized as the most successful training aid of recent times. Chuck's passion for coaching led to the development of the Tour Striker Golf Academy with its home base at the Raven Golf Club – Phoenix. "I'm thrilled to be associated with the Raven Golf Club." Click here to visit the full Tour Striker Products and Academy website! To contact Martin Chuck directly email Martin@TourStriker.com or 541.948.2480.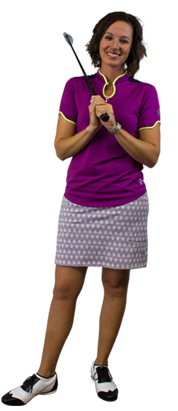 Courtney Mahon, Lead Instructor Tour Striker Golf Academy
To Schedule Lessons Or Make Reservations For The Tour Striker Golf Academy With Courtney Mahon
Click HERE
Courtney is both a fine player and coach. She is respected for her commitment to growing the game of golf through numerous mini golf schools and clinics, predominantly focused on women, developing high school players, and junior golfers. Courtney's primary emphasis with each individual is to develop them into players of the game by creating the impact and ball flight they desire, improving the technical aspects of their short game, and applying their success keys to the game.
Courtney had a very successful amateur and professional career, competing for the University of Arkansas and on various professional golf tours. The knowledge and experiences as a competitive player has tremendously impacted the success of her students.
Mahon spent her first two seasons in Phoenix as an instructor at the Wigwam Arizona Golf Resort. She is an LPGA instructor and is certified through the Plane Truth and the Titleist Performance Institute. Mahon contributes her successes as an instructor to her experiences as a collegiate and professional golfer, division one collegiate golf coach, and her studies under top ranked instructors Stan Thirsk, Martin Chuck, Aaron Olson, and Jim Hardy. The Raven Golf Club – Phoenix is thrilled to have Mahon join the Tour Striker Golf Academy. Courtney can be reached via phone at 785-221-7814 or via e-mail at cmahon@ravenphx.com.